LLyniuM entertainment is a Limited Liability Corporation (LLC) created by Lori McKinney and Robert Blankenship, husband and wife. Their journey began in 2004, when the two artists met at an open mic night and merged skill sets: Lori, a writer, performing and recording artist with dreams of bringing people together through music, and Robert, a multi-faceted visual artist with a knack for all things media and tech and a love for music. The pair began creating music together and scheming productions that would change the landscape of creative offerings in their home region of Southern West Virginia. 
Their first endeavor as LLyniuM entertainment was a collaborative effort to establish an Earth Day Festival in the region in 2004; 12 years later, that festival is still going strong as a partnership with Appalachian South Folklife Center in Pipestem, WV. Soon after the Earth Day Festival, the pair gave birth to Culturefest World Music & Arts Festival; the first edition was a one day event in Princeton City Park; it has grown to become a weekend long oasis of creativity, now located at the Folklife Center. During the years following, they established multitudes of events from open mic nights to concerts to gaming tournaments in various spaces- they rented coffee houses, city parks and concert halls for these events. 
In 2006, an opportunity presented itself to establish a home base within a building in downtown Princeton. Driven to connect more deeply and collaborate with other artists, they established The RiffRaff Arts Collective and planted roots in a once forgotten neighborhood- Mercer Street. Their presence has been a bright, transformative light. Colorful events, public works of art and a positive social scene have become the new norm, and a bright and prosperous renaissance is now underway.
The 10,000 square foot creative complex includes a multi-track recording studio, performance venue called The Room Upstairs- a beautifully remodeled turn of the century ballroom turned small theater- an art gallery and artist studios. Next door is Stages Music School; collaborations abound as the circle of creative players cross-pollinate and inter-weave dreams and plans.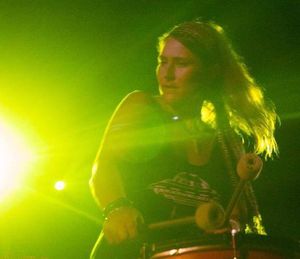 Lori McKinney - Blankenship is primarily a performing and recording artist (vocals, drums, dance, spoken word). She has been writing and recording music since the year 2000. Her years previous were spent gaining a B.A. in Music Theatre from James Madison University, performing in scores of productions there, and performing professionally over the summers as a featured singer / dancer at Paramount's Carowinds in Charlotte, NC and Dollywood in Pigeon Forge, TN. She spent a semester her senior year in London, UK, where she discovered her alternative sensibilities and emerged as an independent, veering from a life of auditions into a world of her own creation. She established LLyniuM entertainment and dreamed of producing multimedia shows which would bring people together and inspire change. Lori searched for musical collaborators and hit the jackpot when she found her soul mate, Robert. The two merged in a profound way and have not stopped writing and recording since. Choosing to plant roots in McKinney's home town of Princeton, WV, together they founded Culturefest World Music & Arts Festival and Option 22 in 2004, formed the RiffRaff Arts Collective in 2006 and All Together Arts Week in 2009. In 2012 she and Robert teamed with members of the community to create Princeton Renaissance Project, a multi-faceted downtown development effort. She feels blessed to have merged with Robert and the rest of the members of the RiffRaff Arts Collective; they have found a mutual space in which to create, encourage and inspire one another and the community. Robert and Lori, joined by Option 22, now tour the region inspiring and empowering other communities to transform their environment with their original multi-media production, Create Your State. Lori lives and works at the RiffRaff, doing what it takes to make the wheels of the business turn as she and the other artists conceive productions for the future.
Robert Blankenship is a multi-faceted artist excelling in photography, painting, graphic design, music, sound engineering, and more. He is a "renaissance man," as his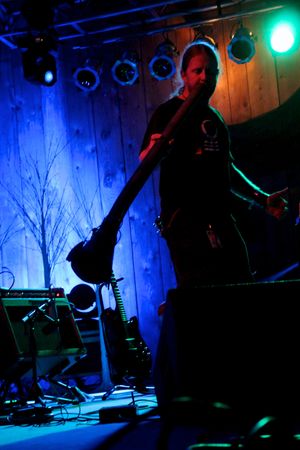 work extends in countless directions, building and nurturing the vast scope of activities the collective produces. He runs Audible Art Studios, a division of LLyniuM entertainment in The RiffRaff, which offers multi-track studio recording, live recording, photography, graphic design, websites, etc.. As creative director of LLyniuM entertainment, his marketing concepts have driven events like Culturefest World Music and Arts Festival and All Together Arts Week to success. Robert is also responsible for the interior design and the graphic marketing of the RiffRaff Arts Collective. Robert plays guitar, banjo, didgeridoo, shamisen, drums and other instruments with the original music project Option 22 and he engineers the music events presented by LLyniuM & The RiffRaff. He is inspired by nature, music and all that is; his ability to capture the profound and interesting in life is what distinguishes him. His art can be seen at Tamarack and in The RiffRaff Gallery. He is currently producing all the content for the original touring production Create Your State that he and Lori, along with Option 22, tour the region with to inspire creative community development. Hailing from Summers County, WV, Robert now lives and works full time at the RiffRaff.